March 12, 2015
Wow, it's March 12. That means… two years of Small Blue Yonder! Feast your eyes on the pile of strips that have accumulated over that time period. 731 comics – two years and a day.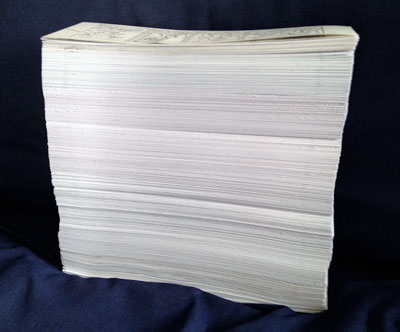 Now that I've been doing this for two years I may have to get crazy and try some new things. Like, maybe some all digital strips, or some old fashioned strips with black and white wash, maybe work in some longer storylines. Maybe I can even convince a few guest artists to contribute, who knows. Meanwhile, there's another book in the works, other top secret things as well.
Thanks once again for reading Small Blue Yonder, for liking Small Blue Yonder on Facebook, for following Small Blue Yonder on Twitter, for buying the Small Blue Yonder book. Hey, I'll be appearing at some cons this year, so hopefully I'll get the chance to meet some of you in person!