March 1, 2014
The anniversary is fuzzy. I eased into Small Blue Yonder via comics I was drawing in my sketchbook, comics that I probably would have made even if I weren't launching a site. And when I did launch the site I didn't tell anyone for a few weeks. Soft launch. I guess the official anniversary is March 12, the date I assigned to the first post. But there's an anniversary before that: the date when I drew the comic that wound up in the first post.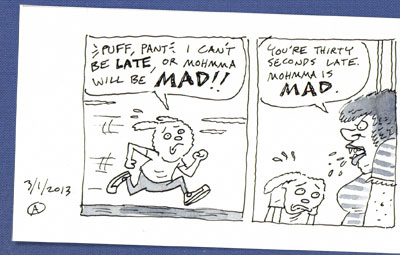 Turns out I drew that comic on March 1, 2013. A year before this post!
I'll write a little more about Small Blue Yonder turning a year old when March 12 rolls around.